Shea Butter Lotion, Facial Moisturizer and Shea Butter Balm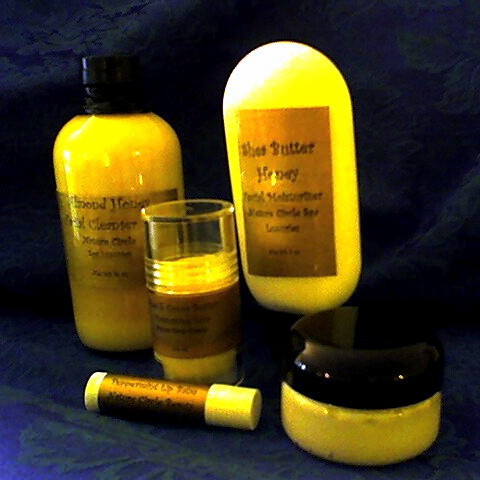 Benefits of Shea Butter
Shea butter has skin healing properties perfect for very dry skin stemming from its physical make up of vitamins A, E, and it's high levels of skin rejuvinating cinnamic, a fatty acid.
Shea Butter protects the skin from sun damage as several studies have revealed that it has natural UV sun protection due to shea butter's UV anti-erythemic activity, which helps tissue cell regeneration and softening of the skin.
For those of us in our 30's and older, daily usage of shea butter skin cream or lotion on the face and body drastically reduces sun exposure while slowing down the effects of aging. It also acts as a natural barrier to protect against elements such as smoke, smog and environmental pollutants in the air.
Shea butter benefits the skin leaving it soft and supple after topical application.

Shea butter combined with cocoa butter, and rosemary extract in an easy convienant, twist up tube.

A little goes a long way. Massage a small amount from head to toe, and watch as the butter just melts from the warmth of your body.

By adding Cocoa butter, one of the most stable fats known with lots of natural antioxidants our Shea Butter Balm has a naturally long shelf life, so no artificial presevatives added in this product.

$14.00

 
Renew your skin with the healing power of Shea Butter rich in Vitamins A, E and F. Shea butter is a natural UV inhibitor.

This lush Shea butter lotion has Honey, a natural antioxidant humectant, Aloe vera, Almond oil, Sunflower oil and Soy extract.

This combination of ingredients protects cell membranes from damage caused by free radicals, helps your complexion regain a radiant clarity, and preserves a youthful elasticity.

$18.00 8 oz.

 

Shea Butter Daily Facial Moisturizer

Shea butter contains a natural UV Inhibitor making it the perfect daily moisturizer to use.

Naturally rich in vitamins A, E & F which are essential vitamins needed for good skin balance, Shea Butter revitalizes, softens, improves cell moisture, helps reduce facial lines and dark spots.

This moisturizer is fragrance free and perfect for your daily skin care.

Shea butter helps prevent wrinkles and helps aging soft skin tissue to firm up by rejuvenating skin cells.

For use on all types of skin, even oily skin as it will not clog your pores.

$16.00 4 oz.