Frankincense & Myrhh
Aromatherapy uses of frankincense and myrrh draw on the deeply meditative quality of these oils. A gentle diffusion of a blend of equal proportions of both can evoke emotional balance in cases of anxiety or stress. Such a blend is also appropriate as an adjunct to prayer and meditation. In fact this usage is consistent with the long history of frankincense and myrrh.
Frankincense & Myrrh Soap
Frankincense & Myrrh Body Lotion
Frankincense & Myrrh Body Polish
This luxurious all naturally scented sea salt scrub smoothes and polishes while the lush blend of oils and essential oils of frankincense and Myrhh nourishes your skin. Use for totally relaxing sumptuous body-smoothing experince. Presevatives added for freshness. No artificial scents or colors.
Yummy Cinnamon Apple
Autumn is when it is time for fall harvests and apple picking. Celebrate the holidays with our Cinnamon Apple Collection.
Made with essential oils and the delectable freshly baked delicious scent of a cinnamon apple cobbler right out of the oven.
Apple Cinnamon Body Lotion
Apple Cinnamon Sugar Scrub
All natural organic and brown sugar are used in this lavish exfoliating sugar scrub that will polish and rejuvinate your skin while protecting it with sweet almond oil, healing jojoba oil and coconut oil. Includes preservatives to keep fresh.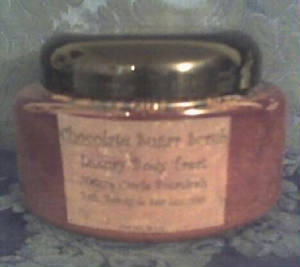 Chocolate Sugar Scrub
Renew your skin with our luxurious chocolate sugar scrub. Made with a combination of rich oils, organic cocoa, organic chocolate, and cocoa butter, this deliciously scented confection will leave your skin with a super soft glow and extra smooth feel. Pure decadence for your bathing pleasure!
Pumpkin Spice Soap
A perfect fall soap with creamy notes of pumpkin, cinnamon and nutmeg.
Pumpkin Spice Sugar Scrub
This fine body scrub gently exfoliates your skin while reminding you of warm holiday gatherings . Organic and brown sugar remove dry skin cells without stripping your skin of moisture. You can smooth and reveal softer skin on your your arms, legs, knees and elbows. Pumpkin seed, jojoba oil, coconut oil, and almond oils help soothe your skin, leaving your body feeling incredibly soft. Scented with natural essential and fragrance oil preservatives added to keep fresh.
Pumpkin Spice Body Lotion